Super Air Heater

Digital Temperature Control Unit DAC-8D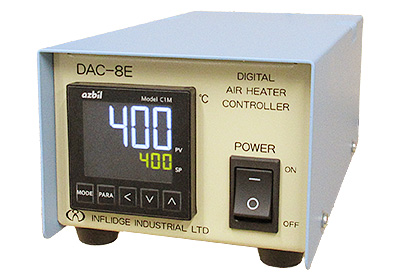 The DAC-8D digital temperature controller accurately controls the Super Air Heater's hot air temperature.
Simply connecting this to the Super Air Heater enables detailed temperatures to be set and overall temperature management.
Advantages
Stable temperature control.
Auto-tuning possible for all temperature ranges.
Uses a control system that is suitable for quick start air heaters.
Compact and lightweight.
Useful for circuits designed to maintain safety with upper and lower limit temperature alarm functions, etc., and when creating work procedures.
Usage
Product Photos